About us
ONDREJ ČIERNY – NÁKLADNÁ DOPRAVA is a family operated company founded in 1994 with the aim to provide services in the field of freight transportation and carriage of bulk materials. Since 2000, it has gradually specialized in domestic and international cargo transportation using the curtain sided semitrailers. Our priority goal is to provide our existing as well as potential customers with services of as high as possible quality.
This customer-oriented approach is evidenced by the Trustworthy Company certificates that we have been obtaining regularity every year on the basis of internet surveys and which are awarded to the companies that do not have any negative feedback from their clients or business partners.


Fleet
Currently we operate 7 combinations of vehicles (truck & 13,6 semitrailer). We rely on well-proven brands of VOLVO trucks and SCHMITZ semitrailers. The average age of the fleet vehicles is 4 years. All newly purchased trucks are maintained and repaired under a so-called Golden Contract. In case of vehicle breakdown anywhere in the EU, the vehicle is towed away and repaired within 24 hours after the breakdown is reported, thus minimizing any delay. All vehicles meets the highest environment related standards of EURO 5 EEV and EURO 6. The vehicles are obviously equipped with GPS and communication systems to track actual location of vehicle.
SCHMITZ semitrailers:
13600x2510x2750
adapted to load large materials up to 251 cm wide.
Three-sided curtain system
XL certificate
Capacity of 90 cubic meters
32 aluminium support laths
2 transverse beams
Customs seal rope
Multilock system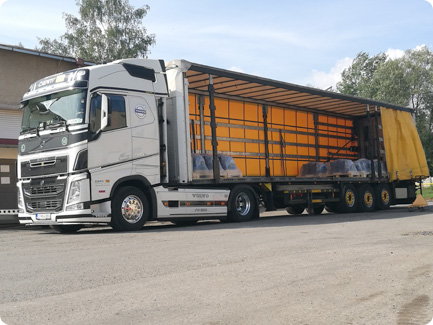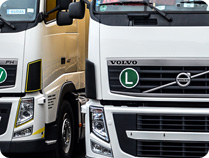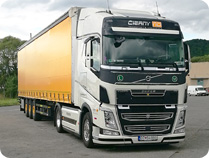 Contact
Contact
ONDREJ ČIERNY NÁKLADNÁ DOPRAVA
Námestie mieru 4
962 12 Detva
Slovak Republic
Place of business
ONDREJ ČIERNY NÁKLADNÁ DOPRAVA
areál SAD Detva
962 12 Detva
Slovak Republic
Phone
+421 45 5455 165
Fax
+421 45 5455 165
Owner
Operations manager
Office clerk
Are you interested in our services?
Contact us